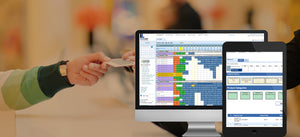 Access and manage tables and waiting lists , see their orders and add/remove items if needed.
Select items visually by group, add quantity , manage modifiers, add predefined notes or custom notes.
With support to all the platforms whether it is android , iOS or windows our POS and native applications provides optimum performance.
You can enable/ disable access and permissions where ever you want , so in case your waiter wants to cancel an order it will need your or manager's permission.
You can check deleted invoices and cancelled orders with compulsory reasons right on the dashboard, so there are minimal chances of theft in the restaurant.